They have a very flexible program compared to other retreats. You can join them whenever you want to or do your own thing. There will be yoga. dance, pilates classes and delicious meals. Even Shiatsu massage!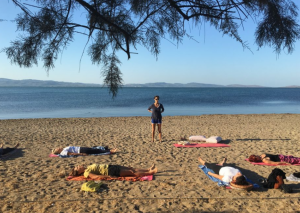 The retreat organizers say:
"Immerse yourself for 8 days in paradise where you will feel completely nurtured!
Enjoy a Greek Pilates and yoga vacation at the beach of Lesbos island. Unspoiled by tourist crowds, sandy beaches with trees to do our practice in the shade.
Outside the classes, you can stay with us in our lounge area, share our good and bad moments in life. It feels like a warm bath, people say.
You can go to the beach, enjoy the swimming pool with a book on the sunbed or take a massage. In general, it's an easy going atmosphere and our prices are very friendly too."
Learn more about the 8 Day Pamper Yourself With Pilates, Yoga & Dance on Lesbos Island.