Hi, I'm Tom Thumb, a writer and storyteller and, in addition to keeping this calendar up to date with lots of cool, small festivals and retreats, I also organise a few different events with a team of musicians, dancers and teachers.
I started running these events mostly because I couldn't find festivals that I wanted to go to. Big music festivals offered huge crowds, bands on distant stages, horrible hygiene and the kind of consumerist attitude where people would just leave tents behind full of trash when they left.
Smaller music festivals, on the other hand, were often great but people still got wasted and I still felt like a passive consumer watching bands and cheering without ever getting involved.
I spent years going to Rainbow Gatherings where I could be part of making music around the fire and running workshops…but ultimately I got ill too many times from the poor hygiene (many hippies didn't even believe in the existence of bacteria) and annoyed too often by people who wanted to convert me to their personal spiritual cult…
So I began to make events that captured the participatory spirit of Rainbow Gatherings but with more organisation so they could be safer, cleaner and more inviting to a diverse range of people. You can come along regardless of whether you work in high finance or if you wander the earth barefoot. We create a welcoming environment where you can turn up by yourself and make a bunch of friends on the first day while drinking tea.
Most importantly, I can say without exaggeration that the festivals and retreats that I run have changed many, many lives for the better. Not because of anything that I do but because of the kindness, talent, inspiration and care of the people who always come along. It's a privilege to create a space where so many amazing musicians, dancers, teachers and interesting, original, sparkling personalities come along and work their magic. People open up our hearts and minds and leave as quite different people than the ones who came along.
All of the events are small, friendly (only 100 tickets for sale on each festival) and are without alcohol or drugs.

Everyone who comes to the Festival of Creativity is invited to make a workshop and so you can go to 4 different workshops each day from a choice of  11 or 12 different sessions on anything from contact improv dance to Jungian psychology to wilderness survival skills 🙂
We make all the food and tea for everyone, and there are musicians playing all night and day without stages or concerts, just playing wherever the mood strikes. There are no phones and no stimulant stronger than coffee…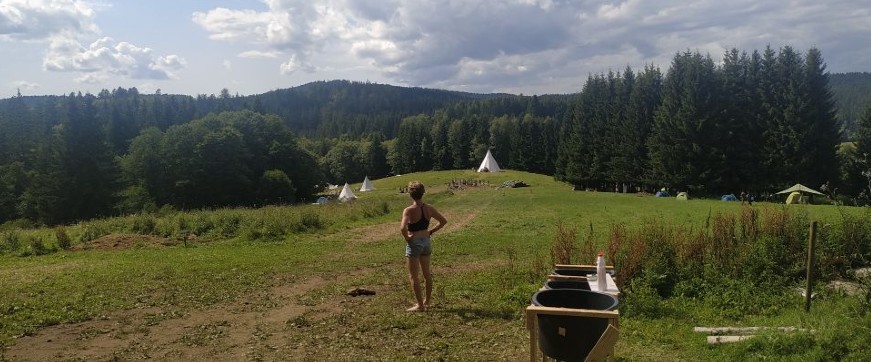 Woman to Woman Festival has much the same structure as the Festival of Creativity but is only for women.
It's an opportunity to experience a sense of community free of the usual gender dynamics and is an opportunity for women of all ages to come together to share, heal and celebrate on a mountain.

The Festival of Sensuality is an event which explores body awareness, sexuality and communication within relationships. Who wouldn't like to learn how to enjoy more fully the experience of being alive, of being in love, of deepening joy in intimacy?
Anybody with a body is welcome 🙂
The Sahara retreats 15-21 January and 5-11 February, 2023 in Morocco

The Sahara retreats are where I began with events back in 2011 and they remain one of the highlights of my year. We go out into the dunes with 20 others for a week of  yoga, meditation, dance, song, stories, laughter and tears. We camp in traditional Berber tents and open our hearts under a glittering desert sky.