Rainbow Gatherings are not festivals.
They're intentional gatherings of all kinds of people who come together for a month somewhere in nature to cook together, sing around the fires, make workshops, share experiences and generally come together as 'a family'.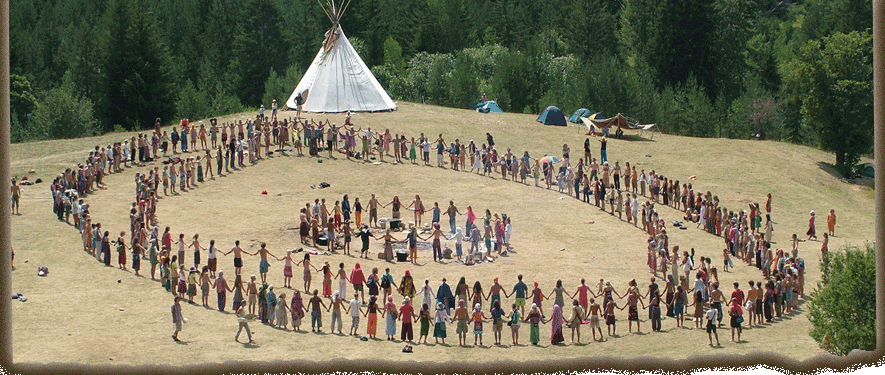 Some people see the Rainbow Gatherings as a manifestation of a new consciousness as a tribe of many colours gathers to bring in a New Age upon the earth, fulfilling ancient Hopi Indian prophecies.
Others see it as an opportunity to hang out in nature for a month and have a great time.
Either way the Rainbow Gatherings are unique events in that there's no commerce of any kind, no alcohol, and there's nobody in charge. As is often heard in the Rainbow: 'if you see a job – it's yours!'
Rainbow Gatherings usually last for a month (a cycle of the moon) and are held all over the world and are particularly strong in Europe. There are regional Rainbows in many countries and also a European Rainbow Gathering which moves country each year.
Here is a book about the Rainbow Gatherings in Europe with some chapters online.
Rainbow Gatherings in 2022
We've summarised here some rumours about gatherings but make no promises for where, when, what or how they will be! You may need to register at the forums to see the info…more gatherings coming soon – check for updates!
April
Israeli Spring Rainbow Gathering 22 March – 29 April
Not far from the Jordan River. It might be a smaller affair than the autumn Rainbow Gatherings in Israel which attract a lot of weekend visitors who leave all their trash behind..
Italian Spring Rainbow Gathering 10-24 April
These 2 week gatherings can be much more focused and dynamic.
Portugal spring Rainbow Gathering 1-30 April
April is already lovely and warm in Portugal..
Beltane Rainbow Gathering 30 April – 30 May
Probably in Devon, UK.
May
Spanish Rainbow Gathering – all of May
It's somewhere north of Madrid but location and dates are secretive – try asking someone on the European Rainbow Facebook group 🙂
Czech Healing Rainbow Gathering 25 May – 6 June
You need to arrive to the village of Velka Javorska then follow the link to the map above.
June
Central European Singing Rainbow Gathering 30 May – 29 June
If you love your bhajans and songs that go on forever in A minor…
July
Balkan Rainbow Gathering in Serbia 29 June – 28 July
'Probably in the south-east of the country'.
Italian Rainbow Gathering  30 June – 28 July
Somewhere in the centre of Italy.
TeaTree Memorial Rainbow Gathering in Austria 13-28 July
To commemorate a much-loved Rainbow brother who organised many Rainbows.
Belarus Rainbow Gathering 29 June – 28 July
Perhaps we can get some of the refugees from the Middle East who are stuck in Minsk to come along..
August
European  Rainbow Gathering in Bulgaria 28 July – 27 August
There was an idea it was supposed to happen in Georgia but the Georgian Rainbow family ultimately declined the honour so it will happen in Bulgaria instead 🙂
Slovakian Rainbow Gathering 4-20 August
In Central Slovakia near the town of Ruzemborok for those of you who don't feel like going all the way to Bulgaria..
Georgian Rainbow Gathering 27 July – 25 August
Nor the rumoured European Gathering but a local one.
September
W.I.S.E Isles Gathering 27 August – 25 September
In Yorkshire which isn't famous for it's sunny weather…
Albanian Rainbow Gathering 25 September – 25 October
These have been going for years, surprisingly.
World Rainbow Gathering 26 September – 25 October
From Mexico to Turkey…
Talk of a Georgia World Peace Gathering is probably to be ignored…anyone can 'announce' a Rainbow Gathering, it's another thing to actually make one.
And though it's not a Rainbow Gathering we, the team behind this site, also run the Road Junky Festival of Creativity (8-17 July, 2022 in the Czech Republic) which also has loads of music around the fire, creative workshops etc
Likewise for the Sahara retreats in Morocco each winter..
Oh and here is an incomplete list of Rainbow Gatherings around the world, too.