Rainbow Gatherings are not festivals.
They're intentional gatherings of all kinds of people who come together for a month somewhere in nature to cook together, sing around the fires, make workshops, share experiences and generally come together as 'a family'.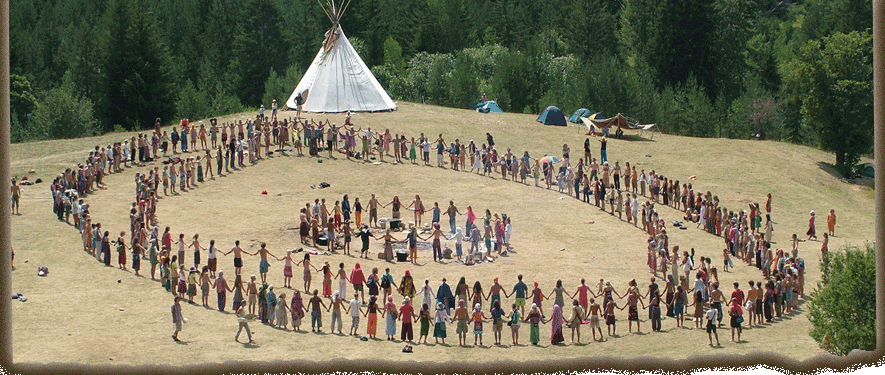 Some people see the Rainbow Gatherings as a manifestation of a new consciousness as a tribe of many colours gathers to bring in a New Age upon the earth, fulfilling ancient Hopi Indian prophecies.
Others see it as an opportunity to hang out in nature for a month and have a great time.
Either way the Rainbow Gatherings are unique events in that there's no commerce of any kind, no alcohol, and there's nobody in charge. As is often heard in the Rainbow: 'if you see a job – it's yours!'
Rainbow Gatherings usually last for a month (a cycle of the moon) and are held all over the world and are particularly strong in Europe. There are regional Rainbows in many countries and also a European Rainbow Gathering which moves country each year.
Here is a book about the Rainbow Gatherings in Europe with some chapters online.
Rainbow Gatherings in 2019
We've summarised here some rumours about gatherings but make no promises for where, when, what or how they will be! You may need to register at the forums to see the info…more gatherings coming soon – check for updates!
January
February
March
April
May
Switzerland Rainbow Gatherng 5-30 May
Close to Luzern. Hard to find a location for a Rainbow Gathering in Switzerland which isn't spectacular.
June
Middle European Peace Rainbow Gathering 3 June – 2 July
It will be held somewhere close to Germany, Austria and the Czech Republic…which would seem to suggest the latter.
Hungary Rainbow Gathering June 3 – July 2
Just in case the Middle European Rainbow Gathering doesn't happen you have one nearby in Hungary which is also pretty much in the middle of Europe..
Swiss Alps Rainbow Gathering June 3 – July 2
Following directly on from the previous gathering in May..
Italian Healing Rainbow June 13 – July 2
It's a healing Rainbow but they say in the last one they ate raw for lunch and cooked food for dinner. Don't ask us what eating raw has to do with healing…
July
Russian Rainbow Gathering 2 July – 1 August
They will post soon info on the Facebook group and you can also get advice on how to get a Russian visa there.
W.I.S.E Isles Rainbow Healing Gathering 2 July – 1 August
They say that this healing gathering might not be based on raw food for once…
Peace in the Middle East Rainbow Gathering 2 July – 1 August
Probably the only place in the world where Israelis and Iranians sit down together every day..
August
European Rainbow Gathering in Sweden 1-30 August
Please don't write to ask us for information about where the Rainbow Gatherings are – we post all we know here!
Healing Rainbow Gathering in the French Pyrenees 1-30 August
In case Sweden seems too far or you'd rather spend your summer with people in nicotine and caffeine withdrawal there's a healing Rainbow near Aude in the lovely Ariege region of France.
Belarus Rainbow Gathering 1-30 August
Or if you'd rather go and meet another side of the Rainbow family (who might find it hard to get visas for Western Europe) you can go and spend a month in Belarus.
September
Albanian Rainbow Gathering 30 August – 28 September
Good to see the Rainbow Gatherings spreading to lesser-travelled parts of Europe.
October
November
December
And though it's not a Rainbow Gathering we, the team behind this site, also run the Road Junky Festival of Creativity 21 June – 1 July in the Czech Republic which is partly inspired by the Gatherings.
Likewise for the Sahara retreats in Morocco..