Rainbow Gatherings are not festivals.
They're intentional gatherings of all kinds of people who come together for a month somewhere in nature to cook together, sing around the fires, make workshops, share experiences and generally come together as 'a family'.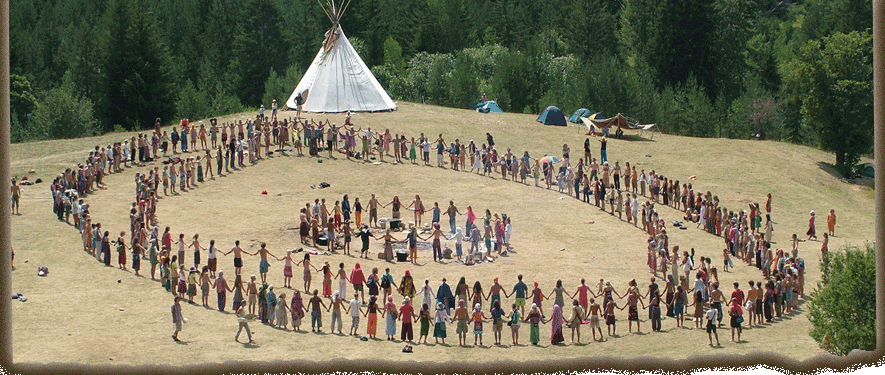 Some people see the Rainbow Gatherings as a manifestation of a new consciousness as a tribe of many colours gathers to bring in a New Age upon the earth, fulfilling ancient Hopi Indian prophecies.
Others see it as an opportunity to hang out in nature for a month and have a great time.
Either way the Rainbow Gatherings are unique events in that there's no commerce of any kind, no alcohol, and there's nobody in charge. As is often heard in the Rainbow: 'if you see a job – it's yours!'
Rainbow Gatherings usually last for a month (a cycle of the moon) and are held all over the world and are particularly strong in Europe. There are regional Rainbows in many countries and also a European Rainbow Gathering which moves country each year.
Here is a book about the Rainbow Gatherings in Europe with some chapters online.
Rainbow Gatherings in 2021
We've summarised here some rumours about gatherings but make no promises for where, when, what or how they will be! You may need to register at the forums to see the info…more gatherings coming soon – check for updates!
January
Gran Canaria Rainbow Gathering 12 January – 11 February
A gathering in Gran Canaria. The organizers say, "Let's celebrate ourselves, life and everything in between."
Rainbow Gathering Morocco 13 January – 11 February
Near Tafraout Sidi Ali. Bring warm clothes for the cold nights.
March
Turkish Rainbow Gathering 13 March – April 12
Spanish Equinox Healing Gathering No dates yet
A mini-gathering held in Catalunya.
W.I.S.E Isles Walkabout Rainbow 12 April – 10 June
Not a Rainbow Gathering but some nice people wondering around Dartmoor in the UK.
May
Spanish Rainbow Celebration 11 May – 1- June
Another one that's lacking info, perhaps not happening..
June
W.I.S.E Isles Summer Solstice Rainbow Gathering 10 June – 10 July
In lovely Cornwall. Though someone's car was set on fire in the parking apparently.
Swedish Midsummer Rainbow Gathering 10 June – 10 July
Somewhere in the far north with midnight sun.
Balkan Rainbow Gathering in Macedonia 10 June – 9 July
A Balkan adventure.
Italian Rainbow Gathering 10 June – 9 July
Somewhere in the north of Italy.
Finnish Rainbow Gathering 10 June – 9 July
Not sure if this one is happening.
Rumours of a Ukranian Rainbow now suggest it will be in July.
July
European Rainbow Gathering in France 10July – 8 August
This was a huge gathering 15 years ago or so when the European Rainbow was last in France.
Irish Rainbow Gathering 10 July – August 8
The idea of this one is to have continuous talking circles on how to 'save the world'. Because, after all, if the kind of people who go to Rainbow Gatherings aren't going to do it, who will?
August
Romanian Rainbow Gathering 5 August – 5 September
On the beach of the Black Sea!
The World Rainbow Family Vision Circle 8 August – 7 September (the 2020 event is postponed to August 2021)
Seed Camp will begin 24 July, 2021.
Belarus Rainbow Gathering 8 August – 7 September
Perhaps the Rainbow will be the final push in consciousness to overthrow the regime!
Middle European Rainbow Gathering 8 August – 7 September
Hopefully not in Austria for those who remember the disaster of the attempted European Rainbow there a few years ago..
World Rainbow Gathering in Russia 8 August  – 7 September
Last time there was a European Rainbow Gathering in Russia it didn't work out so well but we love the optimism.
Georgian Rainbow Gathering 8 August – 7 September
An adventure in Georgia.
Slovenian Rainbow Gathering 8 August – 7 September
Are there really enough hippies to go to all these Rainbow Gatherings?
W.I.S.E Isles Rainbow Gathering in Wales 8 August – 7 September
If you love the rain..
Italian Rainbow Gathering 8 August – 6 September
The directions aren't posted here and the Italian Facebook group has been archived so your best bet is to ask in the European Rainbow Facebook group and hope an Italian hippie helps you out…
Healing Rainbow Gathering in Scotland 8 August – 6 October
Location still not found…
Austrian Rainbow Gathering 19 August – 20 September
Info only in German..
September
Hungarian Equinox Gathering 13-29 September
Held on Crystal Land (permanent Rainbow community) so you can come earlier and stay later.
Albanian Healing Rainbow Gathering 7 September – 6 October
Help needed still to scout a good place.
You can also find info in the Albania Rainbow Facebook group – I still remember the mood of celebration in a vision council when they prohibited Rainbow's presence on Facebook. It was like banning the rain from the full moon celebrations.
And though it's not a Rainbow Gathering we, the team behind this site, also run the Road Junky Festival of Creativity (7-15 August in the Czech Republic) which also has loads of music around the fire, creative workshops etc
Likewise for the Sahara retreats in Morocco each winter..