Rainbow Gatherings are not festivals.
They're intentional gatherings of all kinds of people who come together for a month somewhere in nature to cook together, sing around the fires, make workshops, share experiences and generally come together as 'a family'.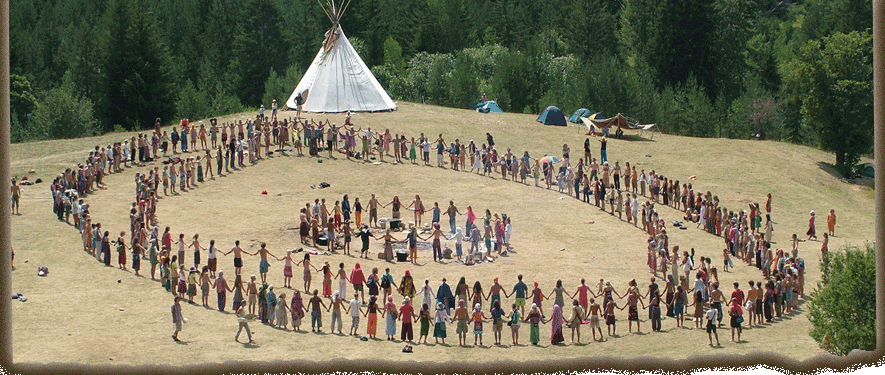 Some people see the Rainbow Gatherings as a manifestation of a new consciousness as a tribe of many colours gathers to bring in a New Age upon the earth, fulfilling ancient Hopi Indian prophecies.
Others see it as an opportunity to hang out in nature for a month and have a great time.
Either way the Rainbow Gatherings are unique events in that there's no commerce of any kind, no alcohol, and there's nobody in charge. As is often heard in the Rainbow: 'if you see a job – it's yours!'
Rainbow Gatherings usually last for a month (a cycle of the moon) and are held all over the world and are particularly strong in Europe. There are regional Rainbows in many countries and also a European Rainbow Gathering which moves country each year.
Here is a book about the Rainbow Gatherings in Europe with some chapters online.
Rainbow Gatherings in 2023
We've summarised here some rumours about gatherings but make no promises for where, when, what or how they will be! You may need to register at the forums to see the info…more gatherings coming soon – check for updates!
April
Italian Spring Gathering 26 March – 16 April
Somewhere in South Italy.
W.I.S.E Isles Rainbow Gathering 20 April – 19 May
If you like mud 🙂
Balkan Rainbow Gathering in Turkey 20 April – 19 May
And here is a Telegram group for more info on this Rainbow: https://t.me/rainbow2023balkangathering
June
Central European World Peace Singing Rainbow Gathering 19 May – 18 June
The names are getting longer and longer. Not many marketing executives in the Rainbow Family it would seem 🙂
Seems to be in Poland.
Italian Rainbow Gathering 18 June – 17 July
We think it's in Liguria.
Belgian Rainbow Gathering 18 June – 17 July
In the Ardennes forest.
Irish Rainbow Gathering 18 June – 17 July
Can't confirm it's actually happening..
Native European Two Druids Gathering in Austria June 14 – August 14
Hmmmm. Not sure about this one. The Austrians are a bit strict and the title doesn't suggest the most grounded of organisation.
July
European Rainbow Gathering in North Macedonia 17 July  – 16 August
Last year it was in Bulgaria and well, the pots and teepees are so heavy that it made sense to just have the next Gathering across the border in North Macedonia…
Belarus Rainbow Gathering 17 July – 16 August
For everyone who can't get an EU visa..
Switzerland Rainbow Gathering 17 July – 15 September
A small gathering in an amazing mountain location.
August
Swedish Rainbow Gathering 16 August – 15 September
Somewhere in the middle of Sweden.
Healing Rainbow Gathering in France 16 August – 15 September
In the south of France.
Scottish Isles Rainbow Gathering 16 August – 15 September
With a private beach.
Rainbow Gathering in Georgia 16 August – 15 September
About 40km from Batumi.
September
Albania Rainbow Gathering 15 September – 14 October
Not the first location you'd imagine for a Rainbow but has in fact been hosting Gatherings for some years now.
Moldova Rainbow Gathering 3 September – 2 October
Let's hope Putin doesn't invade..
Portugal Rainbow Gathering 14 October – 13 September
For a never-ending summer.
And the European 2024 Rainbow Gathering will be in Germany. Somehow.
And though it's not a Rainbow Gathering we, the team behind this site, also run the Road Junky Festival of Creativity (19-28 July, 2024 in the Czech Republic) which also has loads of music around the fire, creative workshops etc
Likewise for the Sahara retreats in Morocco each winter..
Oh and here is an incomplete list of Rainbow Gatherings around the world, too.