They offer Ashtanga Yoga, Hatha Yoga, Kundalini Yoga, Restorative Yoga, Vinyasa Yoga and Yin Yoga and welcome practitioners of all levels. All on the magnificent Korcula Island.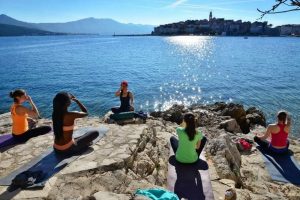 The retreat organizers say:
"Join us in the Mediterranean for a relaxing, rejuvenating and detoxing mind and body + yoga wellness weekend holiday on Korcula Island.
This is a perfect opportunity to refill and restore your energy under the Mediterranean sun while practicing yoga, meditation, and breathing exercises.
Cleanse your body with organic vegetarian, vegan, and raw food plus detox juices. Hike through beautiful nature of Korcula Island, visit ecological olive grove farm, explore secluded beaches, and enjoy a wellness treatment afternoon.
Book now and enjoy enriching, enchanting, and delightfully charming experience."
Find out more about the 4 Day "Mediterranean Wellness" Yoga in Korcula Island, Croatia.