An intensive yoga program in beautiful Spain. A level one immersion. They also offer counseling, massage, meditation and anatomy classes.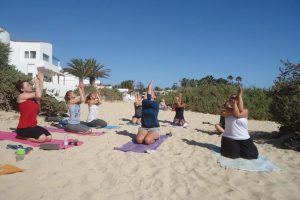 The retreat organizers say:
"Enjoy a one-week yoga immersion where you can dive into yoga with a 50-hour program.
Every day there will be 4 to 5 hours of yoga class including postures, breathing, and philosophy.
Anatomy training with knowledgeable professionals, life coaching, and lots of fun!
During this week you can explore more about yourself, get knowledge, connect and discover. Being away from your comfortable home into a warm new world ready to get deeper into yoga… by the sea."
Find out more about the 8 Day 50 Hour Immersion to Dive into Yoga in Spain