Yoga by the ocean can be a good way to end the year.. They offer General Yoga, Nidra Yoga, Vinyasa Yoga, Yin Yoga and beautiful endless beaches.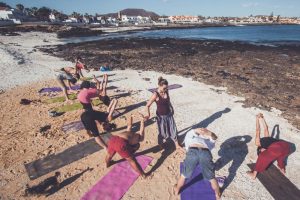 The retreat organizers say:
"Take time for renewal and regeneration, time to relax and soak up the strong Canarian sun.
Morning flow yoga classes will allow your creative energy to rise and give you the space to experience new possibilities arising within you, inviting in joyful and loving energies for the New Year ahead.
We will practice yoga and meditation outside – on the beach, sand dunes, volcano crater. All locations within walking distance away from the accommodation."
Find out more about the 8 Day 'Salute the Sun' Christmas & New Year's Yoga Holiday in Spain.