Yoga & Montagne is a festival offering yoga, fly yoga, spa, and skiing classes. Yoga in the snow – what more could you want?
They also have dates for April (15th-18th).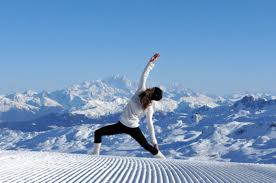 What the organizers say (according to Google Translate):
"YOGA practice for all to harmonize, soften and connect to our essence,
Nature outings on skis or snowshoes to immerse yourself in winter, marvel and oxygenate
Treatments to optimize your vital energy
Evenings by the fireside to ask, sing the kirtans, open your heart and meditate
The SPA with Jacuzzi and sauna to relax in depth
The magnificent and cozy chalet to savor the moment by the fireside Meals Tasty vitality and prepare with love"
You can find their daily program on their website Yoga & Montagne.