Gaia Gathering happens only every two years, so don't miss your chance to attend this year.
Alcohol and drugs are not welcome at the gathering.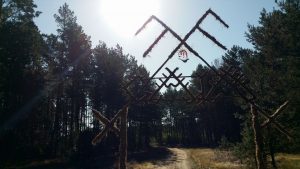 The organizers say:
"'Gaia' means the Spirit of the Earth, the living Earth. Earth that is intensively bound with the human, who comes naturally just as being itself. Gaia is the source of life, where we can submerge our roots and fill ourselves with balance, certainty and strength.
Gaia Gathering – everything that comes from the deepest of our souls and manifests through the dance, music, word, creativeness, synchronization, through visible and invisible threads connected with the Earth, Nature, Essence of Life and everyone of us. Gaia gathering brings us one more potential to see the reality as it is, potential just to be, to be happy, to celebrate. Just think about the connection the Earth – the human, the human – the Earth.. This is the entire all-in-one existence. Open your minds, feel the presence of a moment, renew your spiritual strength. Time will not wait.."
Learn more about the Gaia Gathering.