SUMMER MOVES welcomes you to this joyful, nourishing and uplifting festival, to celebrate life in all its forms, with all its challenges. A wild, tender, yummy mix of dance, movement and voice workshops, time in nature, time together and time for yourself. 65 participants, 6 teachers, more then 8 workshops daily to choose from, 7 days of embodied exploration and celebration…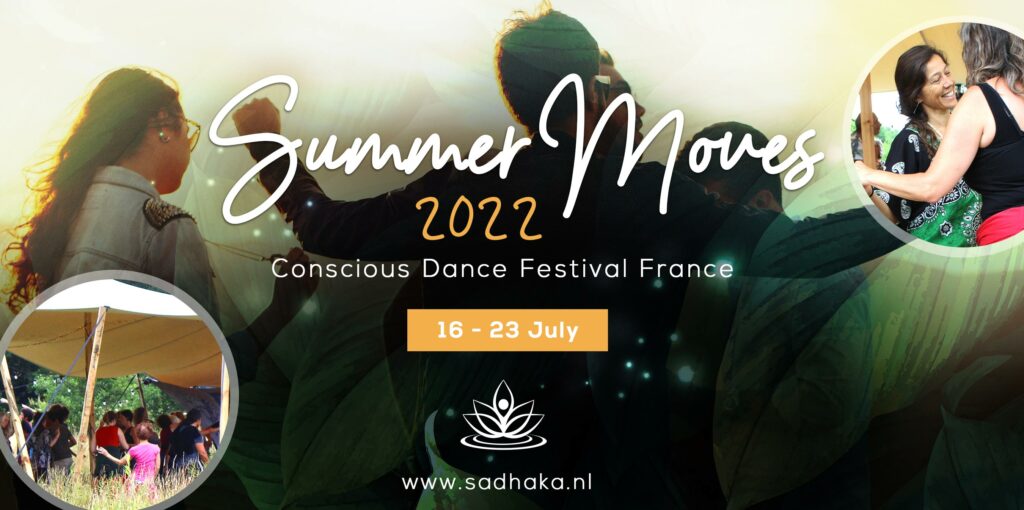 Move to heal!
Recharge – embrace the aliveness of your body, take time and space
Relate – be immersed in nature and heart-full connection
Release – dance and dance and let all that needs a space release
Workshops include 5Rhythms, Open Floor, Systemic Ritual , Movement Medicine, Contact Improvisation, Contact Tango,
Cacao Ceremony, Active meditations , Singing Circle, Voice Liberation, concerts, sound baths, Yoga and one of the finest Ecstatic Dance DJs around.
Where: Sadhaka is an energy neutral retreat center in the midds of nature, 2,5 h. south of Paris, with 1 to 6 person rooms, camp site, sauna and swimming lake, offering an all inclusive stay with delicious vegetarian meals.
You can extend your experience with an in-depth training prior or following the festival such as the Tibetan tantra Massage course and Singing your Soul retreat, or a full-board stay.
Prices
Room 6 person 695 €
Room 4 person 750 €
Room 3 person 795 €
Room 2 person (couples) 860 €
Room 1 person 960 €
Own tent 750 €
Own camper or caravan 775 €
Sadhaka tent 1 or 2 person 795 €
Sadhaka caravan 1 or 2 person 850 €
Website: www.sadhakaretreats.com
Contact: info@sadhaka.nl
FB: https://web.facebook.com/Sadhakafrankrijk/