We want to boost you, in the most efficient way: massage!
HEALING TOUCH
How can we best contribute to your well-being, during this time of new challenges?
Holding this wish in our minds, the Sadhaka 'Art of Touch' Festival was born. A week full of massage and connection through touch, to create healing and general well-being.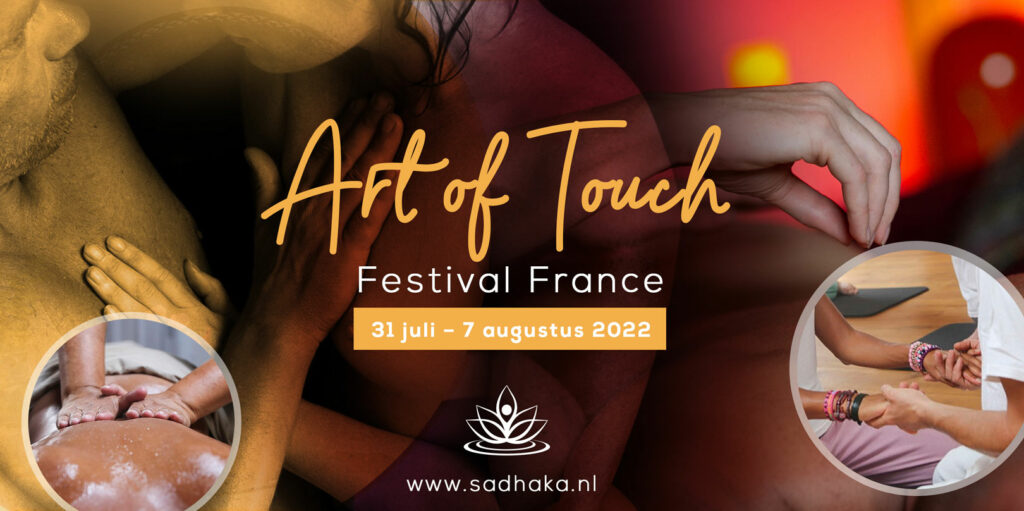 12 massage teachers with a package of activating, relaxing, healing massages… 65 participants…. 8 daily workshops to choose from. Energetic massages, Tantric massages, massage therapy. Self-massage, duo-massage, multi-hand massage. From relaxing to intuitive and holistic. Sometimes technical, sometimes surprising, sometimes intuitive, sometimes painful, sometimes ecstatic, sometimes releasing, sometimes strenuous, always inspiring, always educational, always healing, always innovative and ultimately relaxing.
And much more events, all to increase your life energy, fill your heart, connect your body and mind and bring you into a state of flow.
Where: Sadhaka is an energy neutral retreat center in the midst of nature, 2,5 h. south of Paris, with 1 to 6 person rooms, camp site, sauna and swimming lake, offering an all inclusive stay with delicious vegetarian meals.
You can extend your experience with an in-depth training prior or following the festival such as he Tango Tantra retreat and Tantra Massage course, or a full-board stay.
Prices
Room 6 person 695 €
Room 4 person 750 €
Room 3 person 795 €
Room 2 person (couples) 860 €
Room 1 person 960 €
Own tent 750 €
Own camper or caravan 775 €
Sadhaka tent 1 or 2 person 795 €
Sadhaka caravan 1 or 2 person 850 €
Website: www.sadhakaretreats.com
Contact: info@sadhaka.nl
FB: https://web.facebook.com/Sadhakafrankrijk/