Rainbow Gatherings are not festivals.
They're intentional gatherings of all kinds of people who come together for a month somewhere in nature to cook together, sing around the fires, make workshops, share experiences and generally come together as 'a family'.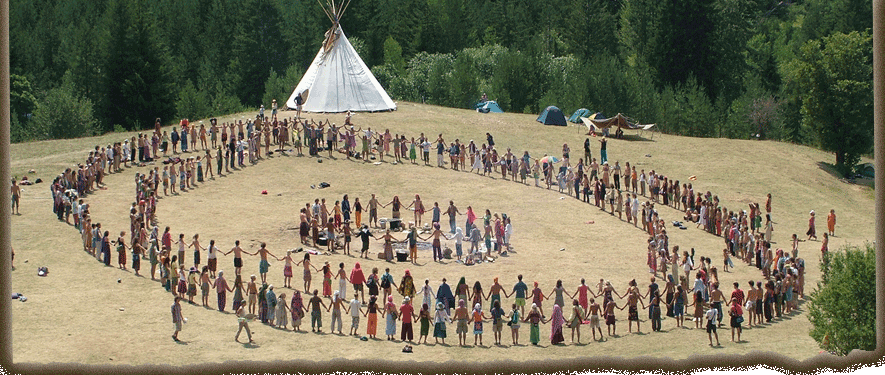 Some people see the Rainbow Gatherings as a manifestation of a new consciousness as a tribe of many colours gathers to bring in a New Age upon the earth, fulfilling ancient Hopi Indian prophecies.
Others see it as an opportunity to hang out in nature for a month and have a great time.
Either way the Rainbow Gatherings are unique events in that there's no commerce of any kind, no alcohol, and there's nobody in charge. As is often heard in the Rainbow: 'if you see a job – it's yours!'
Rainbow Gatherings usually last for a month (a cycle of the moon) and are held all over the world and are particularly strong in Europe. There are regional Rainbows in many countries and also a European Rainbow Gathering which moves country each year.
Here is a book about the Rainbow Gatherings in Europe with some chapters online.
Calendar of Rainbow Gatherings 2018
We've summarised here some rumours about gatherings but make no promises for where, when, what or how they will be! You may need to register at the forums to see the info…more gatherings coming soon – check for updates!
February
El Hierro Rainbow Gathering February 7 – March 15
Cancelled! The police came along and chucked everyone.
March
Israeli Spring Rainbow Gathering 16 March –  15 April
If you don't use Facebook you can find information on the Gathering here.
German Spring Rainbow Gathering 17 March – 16 April
This one is somewhere not too far from Berlin. Hopefully spring arrives soon.
Albanian Rainbow Gathering 17 March – 16 April
After the first ever Rainbow Gathering in Albania last year there's a follow up gathering in the spring. At least there shouldn't be any big hornets around the place this time.
Raw Food Walkabout in Spain 25-31 March
If you like to walk around munching raw things with other raw food fanatics this could be the thing for you.
April
May
Bulgarian Rainbow Gathering 15 May – 13 June
You can follow the link and send an email to get the invitation for the Bulgarian Rainbow Gathering somewhere in the mountains.
Turkish Healing Rainbow Gathering 15 May – 13 June
You might find more information on the Turkish Rainbow Family page on Facebook.
W.I.S.E Isles Spring Rainbow Gathering 15 May –  15 June
They're still in the process of looking for a location somewhere in Sussex. So it remains to be seen if this Rainbow will happen.
Spanish Gathering  15 May – 13 June, Spain
Middle European Rainbow Gathering in Southern Germany 15 May – 13 June  CANCELLED
It's hoped that the Czech, Polish and Slovak families will come to help and this Rainbow is timed with the school holidays.
French Pyrenees Rainbow Gathering 15 May – 13 June CANCELED
This Rainbow was to be held in the beautiful Ariege not far from Ax-des-Thermes. You can see where on the map. But it now seems to have been cancelled…
Romanian Raw Food Gathering  17 May – 17 June  CANCELLED
Should be somewhere in the west of Romania. The European Gathering was in Romania just a few years ago and so perhaps some seeds were sewn there to make more Rainbows.
June
Peace in the Middle East Rainbow Gathering in Turkey 13 June –  13 July
The Peace in the Middle East Rainbow is maybe the only place in the world you can find Israelis and Iranians hanging out together peacefully..
Russian Rainbow Gathering  13 June – 13 July
If you don't find the info there you can also check here for information and use Google Translate to understand the Russian. And maybe there's even another Rainbow Gathering in Russia here.
Healing Rainbow Gathering  13 June-13 July, St vincent d'Olargues, France
Seedcamp for European Rainbow Gathering  21 June – 12 July, Poland
July
Healing retreat rainbow  1 – 15 July, Liguria, Italy
European Rainbow Gathering will be in Poland 13 July – 11 August
We imagine that will be a big one as it's right next door to Germany and the Polish family is pretty strong.
Serbia Rainbow Gathering of the Tribes  18 July – 21 August, Serbia
August
Austrian Healing Rainbow Gathering 11-29 August
First World Peace Rainbow Gathering 11 August  – 9 September
The dates and location for this one are a bit uncertain as discussion continues but it's probably going to be in Germany after the European Rainbow Gathering so everyone can just flow across the border. The idea is that it's held a century after the end of the First World War.
Czech Rainbow Gathering 11 August – 9 September
Probably near a town called Blatna.
Hungarian Rainbow Gathering 11 August – 9 September
7 Rainbow Gatherings at the same time. Which one to choose?
Ukranian Rainbow Gathering 12 August – 10 September
For more information, you may also check the Facebook page
Georgia Rainbow Gathering  13 August – 11 September
Scotland healing long days august gathering  13 August – 13 September
September
Balkan Rainbow Gathering Albania 9 September – 8 October
The second year for Rainbow Gatherings in Albania.
W.I.S.E Isles Healing Rainbow Gathering 9 September – 8 October
Somewhere in the south east of England.
October
Israeli Rainbow Gathering 9 October – 7 November
You may also get more information through their Facebook page or if you don't use Facebook they also have a Yahoo group where you can find out where the Rainbow will be. It's usually either in the Negev Desert or somewhere near the Golan Heights.
November
If you feel to join a Rainbow Family group to help an ancient forest near Cologne in Germany – it's the  Hambacher Forst and there's a protest camp there since October already which will be there at least until February. Here are directions.
December
Rainbow Gatherings in 2019
January
Rumours of a Moroccan Rainbow Gathering but unclear still..
June
Middle European Rainbow Gathering 2 June – 3 July
It will be held somewhere close to Germany, Austria and the Czech Republic…which would seem to suggest the latter.
August
European Rainbow Gathering in Sweden 1-30 August
Please don't write to ask us for information about where the Rainbow Gatherings are – we post all we know here!
And though it's not a Rainbow Gathering we, the team behind this site, also run the Road Junky Festival of Creativity in June in the Czech Republic which is partly inspired by the Gatherings.
Likewise for the Sahara retreats in Morocco..