Dates To Be Announced
Sound and Silence Festival is a cozy little gathering with music, yoga and meditation on the Greek island of Corfu.
The organisers say:
"Sound & Silence is… and always will be an intimate and mindful musical gathering, rooted in the heart and with the spirit of togetherness, collaboration and celebration. Our carefully selected performers are not only gifted with great talent, but they are also good people with a eagerness to support, collaborate, connect and create as well. Their presence, openness and accessibility is just one of many reasons why Sound & Silence has become a unique gathering sought out by both performance artist and guests alike. There is a shared resonance between all of us in attendance, a kindness and joy which spreads from smiling face to smiling face.
Sound & Silence is… and always will be about quality over quantity. While we are joined by more than 50 gifted Musicians, Meditation Teachers, Yoga Instructors, Dance Facilitators, Artists, and Healers, we will never try to be a big festival. We feel that keeping it small and intimate is a big reason behind the special vibe and strong unity we create together. Our focus is, and always will be on creating magic, not money."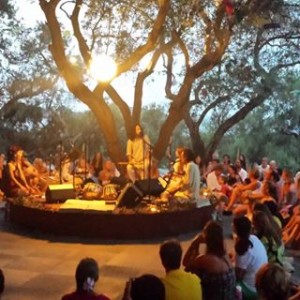 The fest will have music, theater, artists and healers who will contribute in their own special way to enlighten the visitors. In addition, there will guided meditation and healing music for those searching for Nirvana.
During the 5 days on this island, one will get to go to various workshops, enjoy the vegetarian meals and participate in musical satsangs.
Tickets for the 5 day event vary from Euros 250-350, depending on when you book them. The ticket price does not include food or accommodation. Meals can be arranged by the organizers for an extra 80 euros. Accommodation is available in the nearby village of Arillas from 35 euros and up.
For more on the Sound and Silence Festival in Corfu.