Share your juggling skills or learn from the best at the 16th J-Fest in Turkey. You are in for tons of circus arts and alternative workshops teaching you juggling skills, acrobatics, and much more. If you have something to share, you can even host your own! The festival is held at Sundance Camp, a beautiful beachfront site nestled in 160.000 square meters of enchanting forest.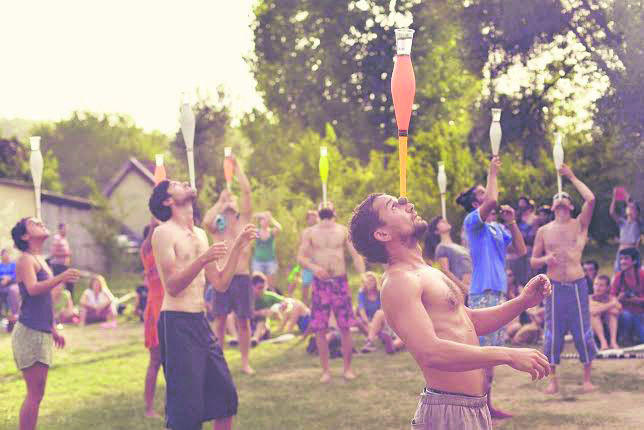 The festival organisers say:
"After years of discussion, planning, and dreaming we finally gathered our toys and came together at Turkey's first juggling convention in 2006. Our dreams came true with you. Our enthusiasm grew bigger and bigger each year, and now we are carrying out the 16th Turkish Juggling Convention together. We are hoping to bring your screams of laughter together in yet another festival dream."
"Many workshops are held by our volunteer attendants all day long, since the best way of learning is to teach J Teach and learn, and make sure you have fun. Share what you know and the skills that make you who you are in circus arts workshops (juggling, acrobatics, aerials etc. ) and alternative workshops as well (music, painting, dance, puppet shows, whistling, origami, rubik's cube, opening bottles with lighters and anything you'd like)."
"We have a workshop board prepared carefully for you to fill up during the festival. You can either invite attendants to your workshop by noting the subject, date, time and location at the workshop board or follow other workshops."
"All the performances in the festival take place with participants' contributions. We do not make any prearrangement with artists for performances prior to the festival. In other words, every year who performs what is a surprise for all of us.
Anyone who attends to J-Fest and who has a minor or major performance can perform on various stages in the festival area. They can even perform anytime off the festival program at a place of their own preference. All they need to do is to notify the entrance of any support they need and announce their performance on the workshop board. Those who'd like to perform at the gala night can get in touch with us in advance. All the performances in the festival including the gala night are held on an open stage basis."
"As always, our festival will be held in the Sundance Camp at Phaselis Bay, Antalya. Located inside a forest, the Sundance Camp has app. 160.000 square meters of area and it's own beachfront. Sundance Camp has its own beach, shower and restroom facilities, a camping area for tents, bungalows and treehouses, a restaurant and a bar."
Learn more about the 16th J-Fest