In September we will try to rock you on your yoga mat. We have invited the yoga schools of Amsterdam to participate in co-creating this Festival with us.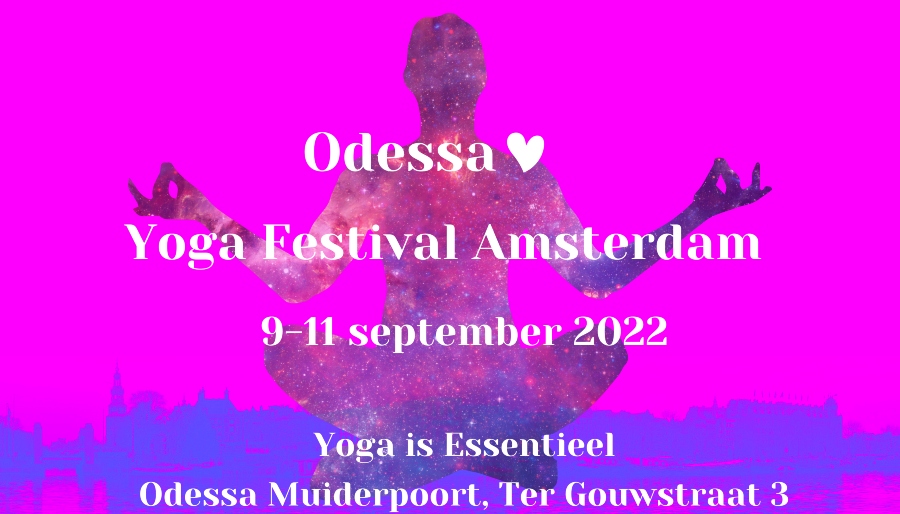 Odessa Muiderpoort, Amsterdam is the location and the co-host. So there will be Ecstatic dance every evening, Cacao ceremony on Saturday + Playground. On Sunday there is ED + kids.
The day program is full of yoga classes, meditations and surprises. We have the cooks Amar Singh & Jolly Singh who have committed to create wholesome Vegan meals for you.
★ Website: www.Yogafestivalamsterdam.com
Theme Yoga Festival Amsterdam
This year's theme of the International Day of Yoga, June 21, is: 'Yoga for Well-Being', "As we're still recovering from the second wave of coronavirus, this day will help spread awareness on how practicing yoga every day is important for our overall well-being."
Partly in view of the political statement 'sport = essential', which states that the sports sector contributes to better health and resistance. Exercise lowers the risk of chronic diseases such as diabetes and cardiovascular disease, depressive symptoms and bone fractures in the elderly. The Health Council advises the Minister of Health, Welfare and Sport to encourage people to continue to exercise more and sit still less. In our view, a quality of life improvement through the practice of Yoga, Meditation and Pilates is obvious.
Therefore, as the theme for the Yoga Festival Amsterdam 2022: 'Yoga = Essential'
So feel welcome to the Yoga Festival Amsterdam on September 9 & 10 & 11 at Odessa Muiderpoort. The festival theme this year is: "Yoga is Essential"
As at a kind of 'Market', the Amsterdam yoga schools serve you their classes at the beginning of the season. It's up to you to choose which yoga style you want to discover and which class you want to participate in. Every day you can choose from a huge variety of yoga classes. In addition to yoga, we will meditate together, sing mantras, enjoy concerts, and in the evening dance a lot! The Yoga Festival Amsterdam starts on Friday 9 September at 8.30 am and ends on Sunday 11 September at 16:00 pm.
In addition to the location, Odessa Muiderpoort is also our partner, they will take care of a large part of the evening program. Every evening there is Ecstatic Dance by great DJs. On Saturday with Cocoa Ceremony and Playground and on Sunday there is also access for children to come and dance, party, roller skate… The full program can be soon be found on the festival website of Odessa.
★ Facebook event link:  https://fb.me/e/2bn5rVv6t
★ Tickets
All tickets are for three days and include lunch and dinner.
First 50 tickets: 215,-
Next tickets: 235,-
★ Practical
Tickets via this link: www.chipta.com/nl/tickets/event/47656/odessa-yoga-festival-amsterdam/event-info
★ Website: www.Yogafestivalamsterdam.com
Mark & Anna
www.growinglovingrelations.com