For now, we don't have any information on future editions of this event…
There is not much to do during the cold November days… Fall CI saves the day. The weather is good, CI community is active and there is a lot they offer.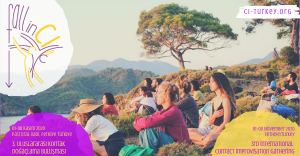 The organizers say:
"What?
'Fall in CI' is an intensive gathering around Contact Improvisation (CI); a research and exchange meeting through the dance form. It is a platform to experience and embody in-depth the different aspects of CI and its connections to other disciplines that it feeds from and feeds back to. It is a place for all levels of CI practitioners to meet and unfold their potential.
Why?
We wish to shed light to CI in-forming bodies of knowledge (BMC, Aikido, Alexander Technique, Skinner Releasing Technique, Axis Syllabus, Meditation, Authentic Movement,…). We wish to make visible the collaborative aspect of the learning and teaching of CI. We wish to keep on researching together."
Learn more about the Fall in CI.
Check out their Facebook page.