This is a unique retreat in which you will be sailing every day. Of course, there will be yoga and healthy food.
They have private cabins and bathrooms available if you are fancy.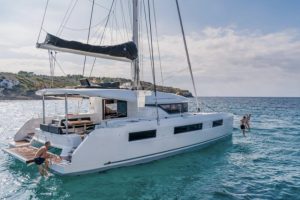 The retreat organizers say:
"We will be sailing everyday on a different bay in our luxury Lagoon 450 Katamaran and having our yoga class on a new amazing beach every morning and evening.
Private Skipper and private Chef on board.
Marco the trainer offers you the chance to practice some amazing Hatha Yoga classes.
Improving and giving straight to your body scheme, lungs, heart and muscles, and the cleanings of the blood and lymphatic systems to clear your mind, focusing on which are your real goals in life.
Meditating to touch the depth of our most intimate self, where we are able to truly develop trust for the future; to feel our real self and the health needs of the most precious place we have: our body mind and soul connection."
Learn more about the 7 Day Yoga & Sailing Retreat.