This retreat is at an amazing location… Whether you are a beginner or experienced yogi, you will learn or improve your yoga practice while enjoying the beautiful scenery.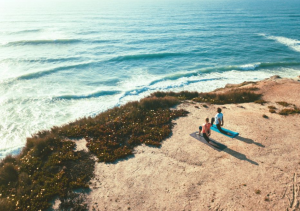 The retreat organizers say:
"If you want to dive into Yoga, to learn more about the true meaning of it and to practice twice a day, this retreat is for you.
No matter if you are a beginner or are already practicing with some regularity, everyone can feel the difference after this week. The improvements will not only be on the physical side but also in other areas that Yoga influences.
On top of that, we'll take you to see the spot where the biggest waves in the world break (Nazaré), to feel the power of nature.
The serene side of nature we enjoy on our walk and trekking as well as in our farm and garden. A wine tasting and delicious vegetarian food complete this retreat."
Learn more about the 7 Day Yoga & Meditation Retreat.