This is a luxury one. We wanted to include one luxury option on our list. This retreat was featured in the National Geographic Traveller's (UK) "The Collection of Luxury Spas", which suggests that they must be doing something right!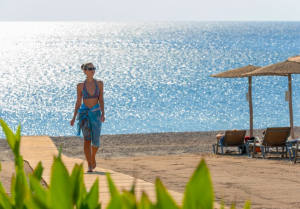 The retreat organizers say:
"Feel your energy levels increase and your skin glow with a luxury health retreat where you will embark on a fantastic 'structured-not ordained' customized spa-cellular rejuvenation holiday package with tailor-made nutrition, vegetable juices, spa-detox circuits, yoga, Pilates, exfoliation, massage, and much more.
All set right on the beach in a blue-flag awarded area next to the famous monument of Kalithea Springs, and just 15 minutes away from the UNESCO World Heritage best-preserved Medieval town in Europe."
Learn more about the 7 Day Cellular Spa-Detox, Pilates & Yoga Retreat.