This retreat gets the help of horses while coaching you. If you are not familiar with horses as therapy animals, this is a good place to start.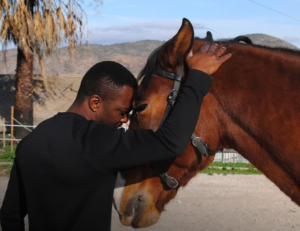 The retreat organizers say:
"Coaching with horses – become your full potential, mindfulness, coaching, yoga, core, or pilates. Give yourself time to reflect, and together with your coach, you will find new ways that will allow you to enjoy more of your life and your loved ones. Grab the opportunity to let sensitive Spanish horses reflect your personality and to feel its energy. Gaining more awareness is an invaluable tool. Discover yourself in a new way. Be aware of how you communicate. Horses detect and expose every nuance in your personality and will tirelessly tell you about it. The horse will react to you exactly as you present your self, reflecting your leadership style, how it is perceived and received. Earn the authority to lead and Natural Horsemanship's effort is rewarded!"
Learn more about the 4 Days Personal Development, Yoga, and Guided Meditation Retreat.