This retreat is located in ana amazing place for rejuvenation… It takes place in Edipsos; a place famous for its thermal spring. They have more dates available.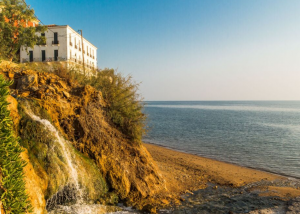 The retreat organizers say:
"This unique Tantra yoga retreat is taking place in cute little town of Edipsos, situated in Northern Evia, a natural treasure, a shelter of peace and well-being with unique healing qualities, thanks to his natural thermal springs with high temperature, particularly beneficial for the human body, gushing from the sea bed and giving an amazing opportunity to swim in semi-thermal sea waters all year round. Delight in sensuality and sexuality.
Be in touch with the physical world and the physical body. Take time out and enjoy receiving the simple pleasures of life. Dance, sing, eat healthy, delicious food, nurture yourself with hot thermal springs in a splendid scenery of rich vegetation that meets the blue-green sea.
All that you need to celebrate life, love, universe."
Learn more about the 8 Day Thermal Spa and Tantra Yoga Retreat.