This retreat balances healthy and relaxed with fun and adventure. There will be Stand Up Paddle boarding, yoga, wine tasting, BBQ and local foods.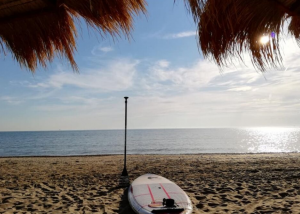 The retreat organizers say:
"The Yoga, SUP & Sunsets experience retreat is a fully catered 3-night break in the stunning area of Abruzzo, Italy.
Stay in Italy's first and only glamping retreat and enjoy a stay of relaxation, Yoga, BBQs, Hiking, Sunset cruises, wine tasting, SUP, delicious food and pool time."
Learn more about the 4 Day 'Yoga, SUP & Sunsets' Retreat in Abruzzo, Italy.