Yoga, healing and good food in a beautiful area… Do you see that green circle in the photo? Yes, that's the spot!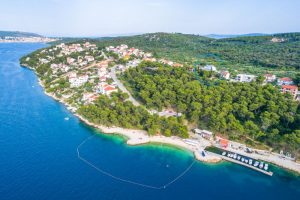 The retreat organizers say:
"Explore the Mediterranean and the rich history of the Croatian coast. Your retreat villa is located on a very quiet island, by the historic town of Trogir, and a short drive from a popular international destination Split.
We want your retreat experience to have the best of all worlds: Adventure through exploring the stunning Mediterranean coastline and historic sites; transformation and rejuvenation through yoga and meditation classes; Healing and growth through Educational workshops; and plenty of free time to simply be, let go and enjoy."
Learn more about the 7 Day Mediterranean Yoga & Meditation Retreat.