What a brilliant idea! If you love your dog and don't wanna leave your best friend behind…Why not go for a retreat together? This retreat offers days full of dog walks, meditation, and vegan food. Great for dog lovers.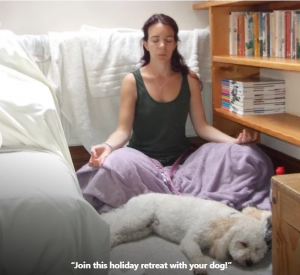 The retreat organizers say:
"Join this meditation retreat with your dog in Newcastle Emlyn, Wales with Canine Flow. In this retreat, you will have certified training in energy therapies for animals, new techniques to enhance well-being and behavior, and relax and grow, surrounded by happy waggy tails! Lots of care and understanding is always taken to integrate all dogs together and allow them to feel safe and secure on the retreat. Caroline, your host, is a qualified dog behavior, training, and many holistic modalities for both people and dogs. As founder of the Canine Flow method for dogs, she has been running the retreats since 2008 with many returning attendees. Rest assured, you will have a wonderful time tailored to meet your own needs and growth. Also, you will have a kind of happiness and magic that somehow glues it all together and follows you home too."
Learn more about the 5 Days Meditations Retreat with Your Dog.