The below photos seem to be explaining it well… You will be by yourself, in nature, away from the hustle with only one thing to focus on: Yourself.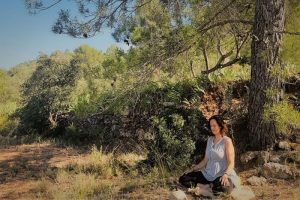 The retreat organizers say:
"Step away from the rush of busy daily life and rest in the silence of Spanish nature!
Surrounded by olive yards, pine- and orange trees our place invites you to slow down and be present. By choosing not to speak for a few days you will connect deeply to your true self.
The retreat has a gentle schedule, besides yoga and meditations, it allows time for walking, resting and connecting to nature.
There are no goals to reach, you are invited to just be where you are, fully alive at the moment. In the meditations and the dharma talks, Ellen guides you into the silence."
Learn more about the 5 Day Silence & Nature Meditation Retreat.