This is a little retreat for a small group of people. Their focus is connection and energy healing. Plant-based meals are provided.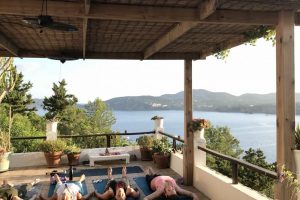 The retreat organizers say:
"Hidden in the North of Ibiza is a bohemian paradise with spectacular vistas that you will want to wake up to and be lucky enough to practice energising dynamic yoga and healing workshops.
Plant based meals all included, daily yoga practices, complimentary Reiki and Ayurvedic massage, meditation and healing group work.
We want you to throw away the masks you put on each day, let the stress and responsibilities of daily life evaporate as you spend 5 days indulging in you and the incredible people around you. We keep groups small and intimate for that truly life changing experience."
Learn more about the 5 Day "Be Yourself" Kind Living Yoga Healing Retreat.