This is a good opportunity to learn more about Tantra. All teachings will be donation based. There will also be Japa Yoga meditation, Hatha Yoga, Yagna and other traditional tantric ceremonies.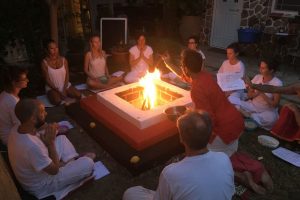 The retreat organizers say:
"Receive the grace of the goddess.
According to the tantric tradition of India, this period of Navaratri is the optimal time for establishing a connection with the divine energy.
Anyone who wishes to accelerate their inner evolution will benefit. The practice is accessible to everyone.
Tantra is a direct way to open your life to a deeper level without having to control and withdraw yourself from normal activities. The meditation blossom in a mystical way when the process aligns you with the most subtle energies of life.
The complete retreat is 12 days but as a service to those who are limited in time, the retreat is open for 8 days as well. Come and you will receive great benefits."
Learn more about the 12 Day The Grace of the Goddess Shakti Tantra Retreat.