The ATS® SSCE weekend with Kelley Beeston organizers say:
"It is helpful to have a good knowledge of the classic steps found in FCBD® DVD's Volume 1, 4 and the modern steps in DVD 7. The workshops are not necessarily limited to these moves and any new moves from DVD Vol 9 will be broken down.
Slow: Taxeem, Floreo, Torso Rotation, Circle Step, Body wave, Arm Undulations, Camelwalk, Reverse, Propeller & Corkscrew Turns and the complex turns – Sahra, Barrel & Wraparound
Fast: Egyptian Basic, Pivot Bump, Shimmy, Arabic, Turkish & Arabic Shimmy, Arabic Hip Twist, Double & Single Bump, Sunanda, Resham-ka, Double back and Chico 4 Corners.
Every workshop is SSCE approved."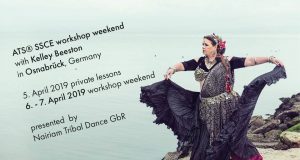 Learn more about the ATS® SSCE weekend with Kelley Beeston.