This small retreat offers Ashtanga Yoga, Hatha Yoga and Vinyasa Yoga. You can also enjoy horse rides and movie nights during your stay.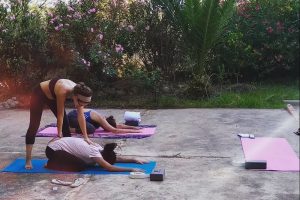 The retreat organizers say:
"Imagine 3 days on the gorgeous Sierra Calderona Natural Park, near Valencia Spain.
Get away from your routine, immerse yourself in nature, unplug from the digital world, and recharge your batteries with 3 days of yoga, healthy food, fun activities, and like-minded people.
Small groups of no more than 8 people ensure individualized attention on this unique retreat in the Spanish countryside. If you are looking for a few days away to practice yoga in a beautiful countryside location, then this is the place for you!"
Find out more about the 3 Day Weekend Retreat with Yoga and Outdoors Activities in Spain.