You will be staying at the Ekkorelax health and wellbeing center. In addition to two yoga classes every day, they offer horse riding, guided walks and movie nights. They welcome only a small number of people, so you better book early.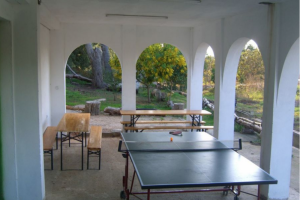 The retreat organizers say:
"Imagine 5 days on the gorgeous Sierra Calderona Natural Park, near Valencia Spain.
Get away from your routine, immerse yourself in nature, unplug from the digital world, and recharge your batteries with 5 days of yoga, healthy food, fun activities, and like-minded people.
Small groups of no more than 8 people ensure individualized attention on this unique retreat in the Spanish countryside. If you are looking for a few days away to practice yoga in a beautiful countryside location, then this is the place for you!"
Learn more about the 5 Day Holiday Retreat with Yoga and Outdoors Activities in Spain.