For now, we don't have any information on future editions of this event…
The Moldova Contact Festival organizers say:
"We invite you to dance and to find special poetry of the meeting through it! We will create together a living field of interest where everyone has the opportunity to be visible, expressed and to observe.
Moldova is a special place.. This is a kind of border between two worlds. This land absorbed the beauty of the two cultures – Balkan and Slavic. It's the place where different people, ideas and colors of life get together. This year we want to be such a meeting space for dance and performance! Via wild geese we have already sent news to amazing teachers and artists. We specially traveled to the fields and danced in the rain in order to please you with a rich harvest during the festival. We are preparing special surprises for those who come to us for the first time, and for those who already love us for a long time . One of these gifts will be the opportunity to create performances together, as well as see the set theatrical and dance performances. Warm days, a circle of friends, performances, jams and celebration are waiting for you!"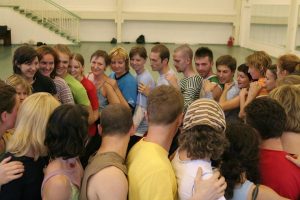 Learn more about the Moldova Contact Festival.