(2020 dates to be confirmed)
The Festival of Contact Improvisation in Jam's Format organizers say:
"We – Anjelika Doniy , Leonardo Lambruschini , Xenia Isaeva – traveled together over the past years and met with different people, contact communities, festivals. Now we invite friends to dance to Moscow! And we want Moscow to taste the dancing taste of communities from different countries.
Teachers will share their community spirit and personal knowledge, warming up jams while supporting their dance. All of them are travelers with extensive experience in teaching and organizing events around the world.
From August 22 to 25, every day, in the big hall of INBI, we will celebrate contact improvisation in a jam format.
We will not reveal to you the mystery of every jam. We want to keep the intrigue, improvisation and unique spirit of each day. Sometimes class, warming up, focus or bodywork. We will create together every day and nourish the spirit of dance from moment to moment."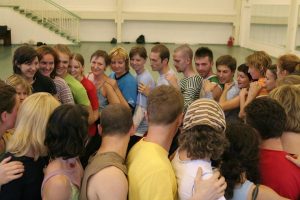 Learn more about the Festival of Contact Improvisation in Jam's Format.