The Contact Camp Ukraine organizers say:
"We are going to spend 3 beautiful May weeks in a mountain village in Ukrainian Carpathians – dancing, singing, cooking, having fun and living a good life, surrounded by green mountains and flowering apple orchards."
"Contact Camp is open for contact improvisation, contemporary dance, bodywork and performance practices as well as music, choir singing, discussions, panels open talks and another forms of human contact. Everyone can offer to hold a class or laboratory and the schedule is formed in the process, the decision of the participants of the camp.
An international meeting of contact teachers will also be held as part of the camp."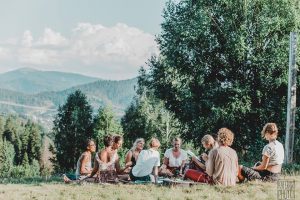 Learn more about the Contact Camp Ukraine.