How many CI festivals offer aquatic motion in their programmes?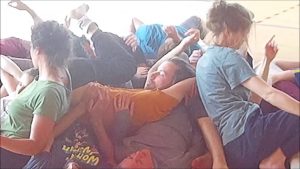 The festival organisers say:
"Working with experiential somatic disciplines and Contact Improvisation in warm water and on the dance floor. The teachers offer skill building intensives, classes & labs. Discovering where movement arises, bringing it into different aspects of dance, improvisation and celebration. Nightly Contact Impro jams inspired by eclectic live musicians. On Saturday May 12 there will be an EcstaticContact Party into a Jam Celebration – open to the public."
Learn more about the Berlin contact improv festival!